This can have different causes!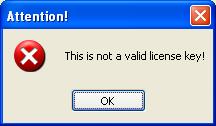 "This is not a valid key!" – The format of the license key is not correct. Please make sure there is no typing error and try again.




"Activation of that key is not possible!" – The license key does not exist. Please make sure there is no typing error. If the license key was typed in correctly, please send an e-mail to sales[at]syncing.net with the license key and your buying information (invoice number, date of purchase, name, e-mail address).

Please note!

The license keys of the SYNCING.NET 5 or higher and older SYNCING.NET versions are not compatible! That means, you are only able to activate this version what the license keys are from. Please make sure which version you have installed first (SYNCING.NET "Help -> About SYNCING.NET") and if your license keys are valid for this version. If you have still license keys from old version of SYNCING.NET and you want to activate the new version SYNCING.NET, you can upgrade your licenses by contacting us sales[at]syncing.net.





"Activation is not possible! Please make sure your Internet connection is working properly." – Please check your Internet connection first. If there is a connection to the Internet, check your proxy and firewall settings. If you can't fix the problem, please send an e-mail to support[at]syncing.net.